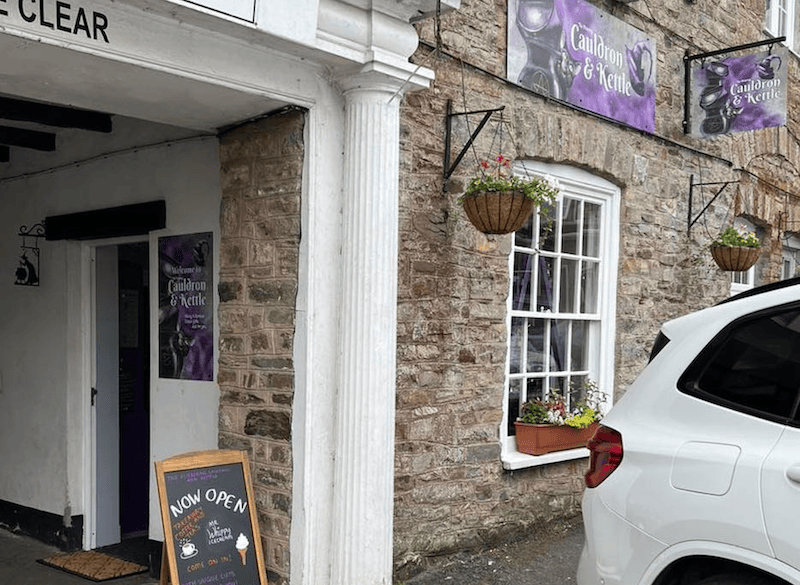 Our Little Shop
We had been pondering on opening a bricks-and-mortar retail shop for a few years. A global pandemic sort of slowed our plans down! However, we are thrilled to announce that a few weeks ago we launched our first 'witchy for you' shop.

It's located in the heart of the county of Devon in the picturesque village of Bampton. We've stocked it with lots of the stuff that we know you love, like, and need.

Candles galore! All sorts of incense: - sticks; cones; back burners - you name it. Plus a wide range of beautiful burners (the dragons are our favourites!).
And…
All our publications are available, along with mugs, wind chimes, pestles and mortars, and some wonderfully witchy herb and plant pots. (And so much more!) Sabbat and Christmas cards, crystals, and crystal trees are proving to be very popular.

Not only that, but also, we also have a Mr. Whippy® ice cream machine and offer a variety (for takeout) of delicious Coffees and Teas. Our fruity 'Witches Brew' tea is already a favourite with the locals.

We'd love to see you in our shop, however, we heard a few of you say 'Where'? When we said it's in the Village of Bampton…

Whilst we may be a touch biased in believing that our little shop is the best thing to happen to the county of Devon (like ever), there's shed loads to see and do in the surrounding areas.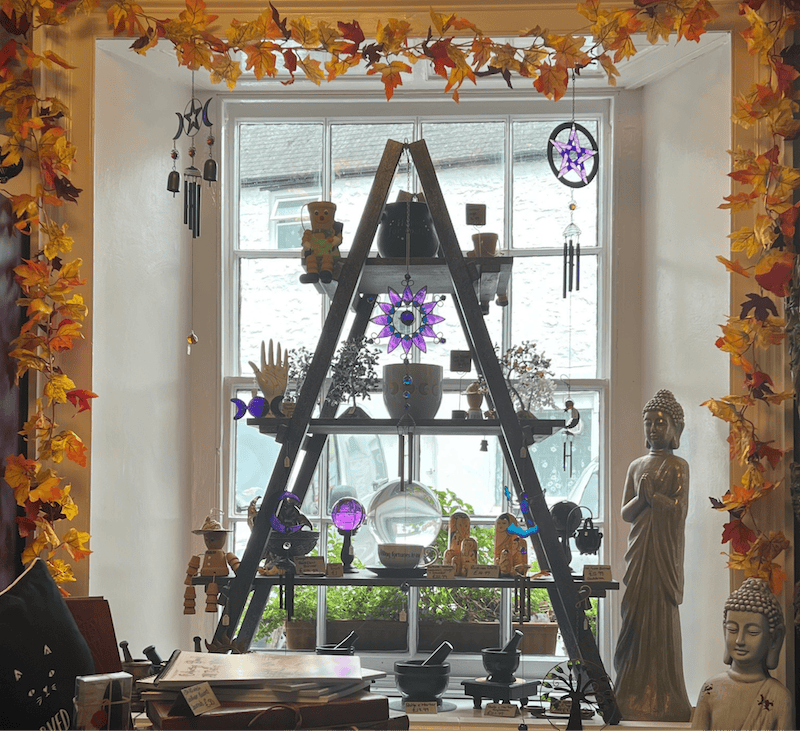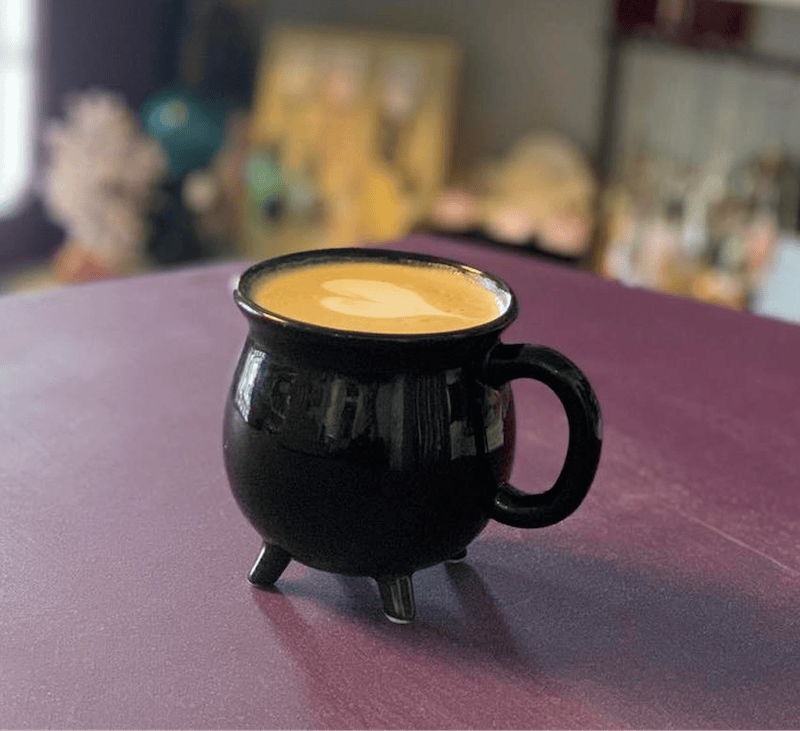 Interesting…
Bampton itself is a quirky little town, all of which is a conservation area and boasts nearly 100 structures of interest - 2 of which are phone boxes!

Obviously, your first port of call in the village will be The Flickering Cauldron & Kettle in Newton Square. From which, you're just a few steps away from the delicious delights, be they savoury or sweet of the Bampton Deli.

Fine wines, and rare spirits including whiskeys, bourbons, and gins plus many other specialty liqueurs are on offer at the 'Cork and Screw' shop which is next door.

The Toucan café bistro offers a brilliant breakfast and homemade food throughout the day. For an authentic Devonshire pub atmosphere, there's the Quarryman's Rest.

Quirky…
However, there's lots more to Bampton than you would expect - click on www.bampton.org.uk and you'll see what we mean.

Be warned that the locals of Bampton tend to park pretty much anywhere, so go with the flow - there's a car park behind the church, which is well signposted, and only costs 50p that you put in the honesty box.

The busy Devonshire town of Tiverton is just a 15-minute drive from Bampton. The very scenic road follows the river Exe, through the Exe Valley.

Travelling between Tiverton and Bampton, you will pass through the village of Bolham, and you will see the brown tourist sign for Knightshayes. It's a National Trust gothic mansion, and really is a 'not to be missed' if you're in the area.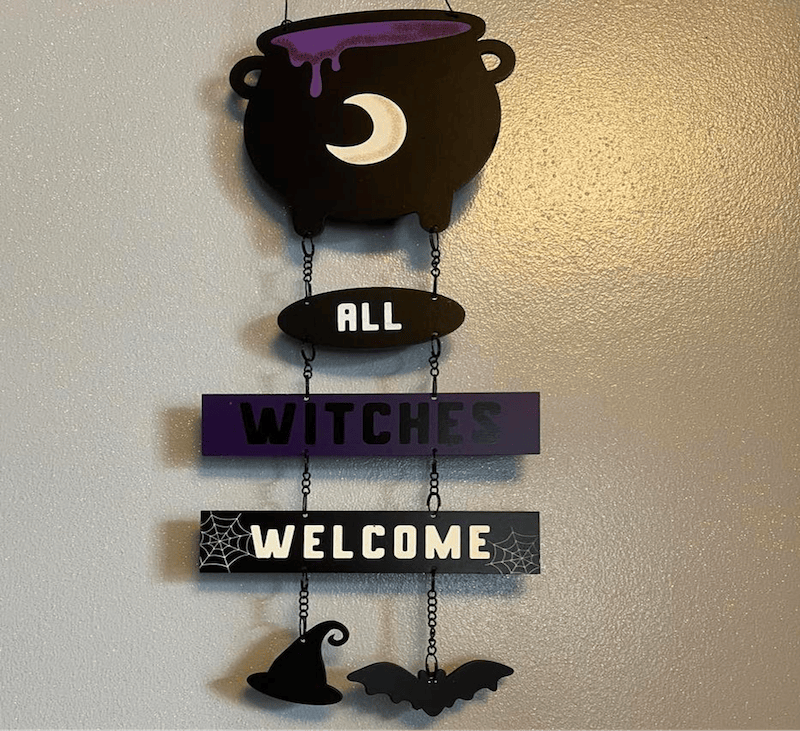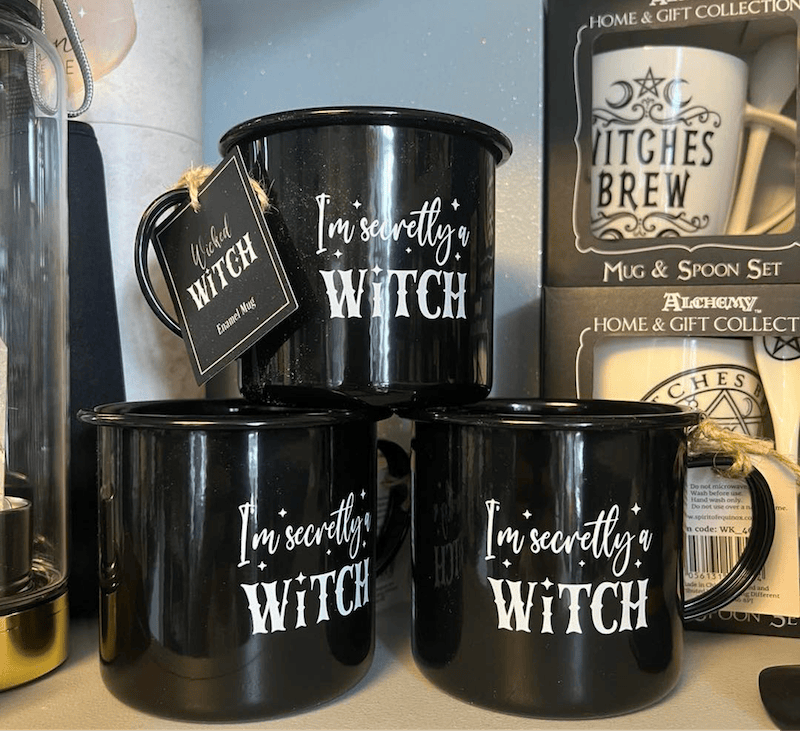 Whilst you are here…
Talking of being in the area, the buzzing City of Exeter is just a 25-minute drive from Tiverton. The beach of Exmouth is only 15 minutes more.

The well-known town of Ilfracombe is just an hour from Bampton and Minehead is just 40 or so minutes.

If you are heading down to Cornwall, take a break from the M5 in Tiverton (Jct 27) and come see us in Bampton!



Join Our Newsletter
Keep in touch with our news and offers!